Quick Info
Tiffany Somerville
Counseling Intern
(919) 451-1369
801 Oberlin Rd
Suite 310
Raleigh, NC 27605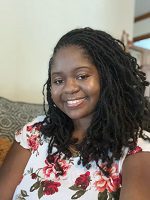 Tiffany is a native of Raleigh and is an intern here at Hidden Stream Counseling. She is currently pursuing her Master's degree in Clinical Mental Health Counseling at Walden University, and working under the supervision of Tanya St. Julien-Denson, MA, LCMHC-Supervisor, NCC. Tiffany received her undergraduate degree in Social Work at North Carolina Agricultural and Technical State University.
Tiffany has experience working with adults, adolescents, and children in a variety of settings. She has recently worked with adults and children while working with the Department of Social Services, and with adolescents in a group home setting.
Tiffany's counseling approach is primarily Cognitive-Behavioral Therapy (CBT.) CBT is a psycho-social interaction that aims to reduce symptoms of various mental health conditions and can involve confronting your emotions.
Tiffany desires to empower her clients and provide them with coping strategies they can utilize in everyday life.