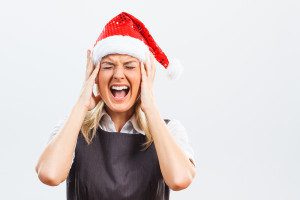 Panic attacks can be a serious problem at any time of the year, but during the holidays they may be especially troublesome. Panic attacks may be a symptom of panic disorder, but stress around the holidays can make them worse. However, there are ways you can manage anxiety before it starts.
The first thing to do is to evaluate which aspects of the holidays are causing you the most stress. Do you worry about the finances, grieve a loved one, or stress over family relationships? Once you identify the aspects that make you feel stressed, make a plan on how to manage them. If it is finances, set a budget and stick to it. Be realistic about your finances and don't go into debt that you cannot afford. If you are grieving a loved one, find a way to honor their memory during this season and enjoy it. They would want that for you. And if it is concern over seeing family over the holidays, think about your boundaries and be clear about what they are. Create a safety plan or cue word with your partner that will indicate it is time for a break or intervention.
If you struggle with panic attacks, you might feel isolated during the holidays. Choose events that you want to attend, but avoid overtaxing yourself. Go to the events you can handle and don't be afraid to say no or feel the need to explain why you can't attend. The key is to not isolate yourself but to finding a healthy balance that fits for you.
During the holiday season, it may be important to stay active and go outside. Walks outside can help you feel more relaxed and in control. If you need to, solicit friends or family members to go with you. Find something that is enjoyable for you, whether it is a walk in your neighborhood or trip to the gym. Don't stay inside throughout the season.
Focus on the future. The holiday season will come and go, so there is no need to focus on it too extensively. If you feel that shopping or planning are getting to you, see what you can do to minimize those activities like shopping online or giving gift cards. The holiday season will be over soon enough.
The holidays may be a good time to ask for support if you are having trouble handling panic attacks. If you feel anxiety, you can find support in friends or family members. It's usually better to explain what sort of help you would like, how they can support you, and what exactly panic attacks are. Sometimes, not all of our family members and friends will be equally receptive, but you can probably identify who is more supportive than others and confide in them.
If you need to talk to someone about your panic attacks or to help you develop a plan, contact Hidden Stream Counseling at 919-307-3805.