Quick Info
Tyson Upham
Counselor Intern
919-295-2084
801 Oberlin Rd, Suite 310
Raleigh, NC 27605
Accepts Blue Cross Blue Shield, Cigna, Aetna, Tricare, and MHN insurances and Private Pay.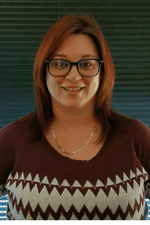 Tyson is a Counselor Intern located in Raleigh, NC. She is currently a student at Antioch University, completing her Master's degree in Clinical Mental Health Counseling. Tyson received her Bachelor's Degree in Sociology with a concentration in Criminology from the University of North Carolina at Greensboro in 2014. She works with adults, adolescents, couples, and families from multicultural backgrounds.

In working with the above demographics, I provide care within the traditional office setting. The amount of care is determined by both the counselor and client during the initial visit. I have the opportunity of seeing clients as many times as needed at the discretion of the client and their particular treatment plan. My counseling approaches are primarily Cognitive Behavioral Therapy and a Humanistic approach. I use the most current Diagnostic Statistical Manual for diagnosis (DSM-V).
Call Tyson at 919-295-2084