Quick Info
Jamieson Faulcon
Counseling Intern
(919) 451-1369
801 Oberlin Rd
Suite 310
Raleigh, NC 27605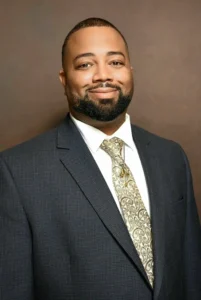 Jamieson Faulcon is a Counseling Intern at Hidden Stream Counseling. He is currently pursuing his Master's degree in Clinical Mental Health Counseling at Liberty University, and is working under the supervision of Tanya St. Julien-Denson, MA, LCMHC-Supervisor, NCC. Jamieson received his undergraduate degree in Liberal Studies from North Carolina Agricultural and Technical State University.

Jamieson has been working with the community for the past 14 years. While working with the community he has been able to help people, mentally and spiritually, to overcome through difficult life transitions. Jamieson has worked with adolescents and adults since 2010, from a variety of demographics with and without mental illness. Jamieson has a special trait of listening to others and helping them work towards healing pain that they have experienced.

Jamieson's counseling approach is primarily Cognitive-Behavioral Therapy. Cognitive Behavioral Therapy (CBT) aims to help clients resolve present-day challenges like depression or anxiety, relationship problems, anger issues, stress, or other common concerns that negatively affect mental health and quality of life.

Jamieson desires to help all communities have better access to mental health tools and resources.