Quick Info
Tanya St. Julien Denson
MA, LCMHC-Supervisor, NCC
210-446-6629
801 Oberlin Rd, Suite 310
Raleigh, NC 27605
Accepts Blue Cross Blue Shield, Cigna, Aetna, Tricare, First Health, Magellan, United Healthcare, and MHN insurances and Private Pay.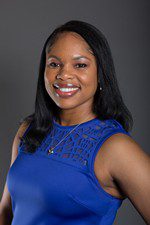 Tanya is a Licensed Clinical Mental Health Counselor Supervisor and a National Certified Counselor currently located in Raleigh, NC. She is a Native of Lafayette, LA and has spent time counseling and training in Louisiana, Texas, and North Carolina. Tanya received her Bachelor's Degree from the University of Louisiana at Lafayette in 2006 and her Master's Degree from Argosy University in Dallas, TX in 2010.  She has worked with adults, adolescents, couples, and families from various demographics with and without mental illness since 2007 and individuals struggling with substance abuse issues since 2010.
In counseling adults, couples, and adolescents, Tanya has provided individual, group, and family counseling services to clients in residential and community-based settings, after-school programs, public school settings, and within traditional office settings.  Tanya continues to provide counseling services to adults, adolescents, couples, and families within individual and group settings.
Tanya's counseling approach is primarily Cognitive Behavioral Therapy and Trauma Focused Cognitive Behavioral Therapy, Psychodynamic Therapy, and EMDR (Eye Movement Desensitization Reprocessing,) with a blend of Solution Focus, Reality Therapy, and Family Systems. Tanya has received training from the Beck Institute on using Cognitive Behavioral techniques for weight loss. She is also a Certified Clinical Trauma Professional and desires to help people face challenges and succeed in meaningful ways.
Tanya also provides supervision to Counselor's in training, during their graduate practicum and internship work, and while counselors are attaining hours to become fully licensed. She enjoys teaching and sharing her knowledge with up-and-coming therapists to help them adequately grow and develop. Tanya has a heart for people and the community. One of her goals includes building environments for new providers to become equipped and educated with meeting the needs of the populations served, and dismantling the beliefs that therapy is something that can only be done one way and is only for certain types of people.
Call Tanya at 210-446-6629